Sometimes I read short stories, free reads, or novellas online and well... since they aren't really books I don't want to count them towards my 111 book goal.
Here's where I'll review these reads.
Unlocked by Courtney Milan is a mid-series novella set in the same world as her Turner Series (Unveiled, Unclaimed, Unraveled)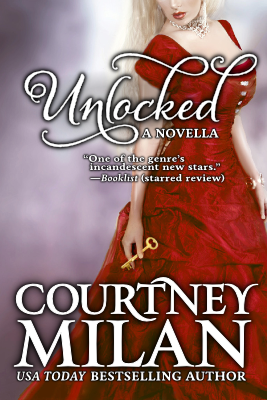 A perpetual wallflower destined for spinsterhood, Lady Elaine Warren is resigned to her position in society. So when Evan Carlton, the powerful, popular Earl of Westfeld, singles her out upon his return to England, she knows what it means. Her former tormenter is up to his old tricks, and she's his intended victim. This time, though, the earl is going to discover that wallflowers can fight back.
Evan has come to regret his cruel, callow past. At first, he only wants to make up for past wrongs. But when Elaine throws his initial apology in his face, he finds himself wanting more. And this time, what torments him might be love…
Unlocked is a novella of 28,000 words, or about 111 pages.
Obviously Unlocked is a quick read, but it's a good one. Short-story romances sometimes lack the time needed to sell the romance to the reader, but Milan uses the character's back-story with each other to add the depth to their relationship. For a short story the love story is actually really touching and I found myself wishing it could have been stretched out into a full-length book. I really liked Elaine and Evan and their story was sweet and actually kind of believable. I liked the elements about growing up and being who you are, not who you think you need to be for people to like you.
"Be who you are and say what you feel because those who mind don't matter
and those who matter don't mind." ~Dr. Suess
Is one of my favourite quotes and I thought of it while reading this novella.
Overall, if you like Milan's writing this is a sweet story to tide you over until Unclaimed and if you haven't read Courtney Milan this is not directly related to her other works and stands alone so it's a great way to get a sample of her writing to see what you think (It's only $1.99)
Oh, my other favourite quote is
"Just when the caterpillar thought the world was over, it became a butterfly"
That kind of applies here too.
Foreplay
and
Zane's Tale
by Jill Myles
These are two short stories from Jill Myles Succubus Diaries series. Now, I'll be honest, I didn't love
Gentlemen Prefer Succubi
when I first read it, but it's aged well in my memory and I was curious to read Myles two shorts from the series.
Foreplay
tells the story of just what happened to Jackie the night she (drunkenly) became a succubi and
Zane's Tale
is told from Zane's point of view. If you've never read these books these stories will mean nothing, but fans of the series should definitely check them out. I liked them both and, actually, reading them made me think I might just read the rest of the series, so I'd say they are a success. NOTE these are
short
. Don't expect a full story. They are little peeks through a window into the series. Just a fun gift from the author.
April 27/11
A Fool Again is the story of Genevieve, who once made a dash to Gretna Greene to marry, but was caught by her father. Now, a few years later, she attends the funeral of her elderly husband (not the man she ran away to marry) and who does she see but The One Who Got Away! Can they make their love work this time around or will Genevieve be A Fool Again?
This novella is being offered as a free e-read by Eloisa James. I have a Kobo so I got it free there, but you can find it pretty much anywhere. The only full length Eloisa James book I've read is Much Ado About You, and the hero from that book, Lucius Felton, is the foil for the hero in this novella. That was a fun bit of luck. Overall, this is a sweet story and it reminded me why I want to read more of Eloisa James's books.
Of Swine and Roses by Ilona Andrews
"A young adult short story about a girl, a pig, some magic, and the worst date ever.
Chad Thurman is a thug, who carries brass knuckles in both pockets and lays magic traps for intruders into "his" neighborhood. The last thing Alena Kornov wants to do is to go on the date with him. But when her family pressures her, she can't say no. Now the ice-cream is absent, the pig is running for its life, and we won't even mention the dead guy…"
I love Ilona Andrews writing and so I may be a tiny bit biased. The Kate Daniels Series is one of my all time favorites and I'm starting to get really into The Edge Series too. This was just a fun little short story, but it was cute and funny and made me wish it was a full length book. That's the biggest compliment I can give.
Under Her Skin (Anthology)
"Three short stories of paranormal romance: "Pack" brings you a tale of a lost hiker and her encounter with some very frightening–and sexy–wolves. A female werewolf helps a sheriff track down a killer "In Sheep's Clothing." A woman must repay her family's debt to a shapeshifting magician in "Grace of Small Magics." These stories previously appeared in print in Mammoth Book of Paranormal Romance"
I almost posted this as a book, but it's just too short for me to do so in good conscience. There are three short stories, one by each author, each about a werewolf of one sort or another. I liked them all about the same and I can't decide which one was best. They are all good in their own way. If you are a fan of 1 or more of these authors this is worth your while if you don't want to read/buy the entire
Mammoth book of Paranormal Romance.
Winter's Passage (Iron Fey 1.5) by Julie Kagawa
"Meghan Chase used to be an ordinary girl...until she discovered that she is really a faery princess. After escaping from the clutches of the deadly Iron fey Meghan must follow through on her promise to return to the equally dangerous Winter Court with her forbidden love Prince Ash. But first Meghan has one request: that they visit PuckMeghan's best friend and servant of her father King Oberon who was gravely injured defending Meghan from the Iron Fey. Yet Meghan and Ash's detour does not go unnoticed. They have caught the attention of an ancient powerful huntera foe that even Ash may not be able to defeat..."
This is a short story that takes place between Iron King and Iron Daughter and tells the story of Meghan and Ash's journey to Tir Na Nog (The Winter Court). While it isn't essential to the plot proper, it gives added depth and detail to Meghan and Ash's romance.
This is (was) available as a free download at Julie Kagawa's website, I believe until the end of April. If you are a fan of this series, this is worth reading. There will be another Iron Fey short story available in June.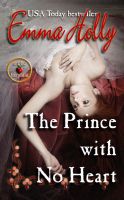 The Prince with No Heart by Emma Holly
"Enter the magical kingdom of Madrigar, where handsome Prince Augustin has been robbed of his heart by a cruel fairy. Blessed by a kinder member of the fae with an "untiring" sword, he's learned such gifts present challenges ... and that missing hearts are no light burden to bear.
Plucky Princess Violet likewise suffers under a spell, fated to burn forever with desires no common lover can satisfy. She seeks a champion to save her people and herself from the clutches of a lovesick werewolf.
Prince Augustin appears to be Violet's knight. The sparks they strike off each other are as hot as a blacksmith's forge. Alas, these wounded lovers must do more than fall in bed. The survival of both their kingdoms depends on them losing their enchanted hearts to each other .."
This book was out of my normal comfort zone, but I do say never judge a book by it's genre, so I gave it a go. (I read a recommendation on another blog) It's on Smashwords and really, is there anything more dangerous than giving me the first 20% of a book to read for free? Anyhoo, this is a paranormal erotica. It's actually the only erotica I've ever read. I'm not a prude, but I do tend to get bored during sex scenes in books, whatever that says about me :)
I have no way to judge the merits of the erotica in this story, but I liked the general idea of it and I'd like to know what happened to Violet's parents (they were kidnapped by seal people or some such and never seen again). I don't think I'd seek out an erotica for the ...erotic parts? Honestly, I didn't pick up on the innuendo in 'untiring sword'. but I did think the character's were well written for length of the story and I was curious what would happen (beyond the obvious sexing)
I also enjoy stopping by eHarlequin once in awhile to read some of the free reads they have up. I couldn't even tell you what I might have read and they turn over pretty quickly. They post new chapters each week and some of the e-reads are a great way to pass the time.
You can check them out at eHarlequin (Harlequin Extras)