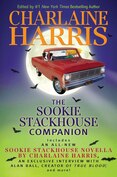 The Sookie Stackhouse Companion
Charlaine Harris
Pub: Aug 30th 2011 by Ace Hardcover
Charlaine Harris has topped the bestseller charts and has become a nationwide phenomenon, thanks to the unconventional-and otherworldly- life of Sookie Stackhouse. Now, in her own words, Sookie gives readers a look at her family, friends, enemies, adventures, and-of course-the lovers who set her world on fire...

Readers will:

• Tour Bon Temps, the small Louisiana town that Sookie calls home, and visit the houses of her Gran and her sometime vampire lover, Bill
• Prowl around the werewolf and were-panther communities
• Browse through her best friend Tara's dress shop
• Belly up to the bar in Merlotte's, where Sookie works
• Get must-have Bon Temps recipes-including Caroline Bellfleur's famous chocolate cheesecake
•Test themselves with trivia questions from the series (from goodreads.com)
Review:
I enjoyed The Sookie Stackhouse Companion. These companion books tend to be fairly lame and cheesy, but there is a solid Sookie novella and some enjoyable bonus items that make this book a fun and easy read.
The Novella,
Small Town Wedding
tells of Sookie and Sam's trip to visit Sam's family and the wedding of Sam's brother. This wedding has been mentioned a couple of times in earlier books and we already heard it was postponed when Sam's mom was shot by her husband the night the shifters revealed themselves. Quinn fans will be glad to see the return of the weretiger briefly in this story, as he has been absent from the last few Sookie books. Overall it was a nice light(er) departure from Sookie's current woes. The action takes place before Dead Reckoning
so there is no sneak a peek insight into the next book but there are some return characters (besides Quinn).
There is a recap of each book in the series featuring the secret correspondences of Bill and Eric for each book. I loved these!
sample:
From Club Dead
Phone: Bill calling Eric
Bill: "Eric"
Eric: "Bill."
Bill: "Lorena has summoned me. I will be leaving the area for a short time to see what she wants."
Eric: "It's been quite some time since you've seen her, hasn't it?"
Bill: " Yes."
Eric: "Hmmm, have you told Sookie?"
Bill: "I have told her that I am leaving on business."
Eric: "Tsk, tsk. Lying to her already?"
Bill: "What I tell Sookie is none of your concern, Eric. I am merely informing you that I am leaving your area. You would have known about Lorena soon enough."
Eric: "what of your work for Sophie-Anne?'
Bill: "I'll take care of it."
There are some longer ones and some really funny ones too. Since the books are all from Sookies point of view, it's fun to get snippits from Bill and Eric's perspective.
I also liked the inclusion of the recipe section. Some of the recipes are from the books and some are southern recipes, but not being from the south I'm excited to try them.
Fans of the series will be happy to see the recipes for Burgers Lafayette Sauce and Caroline Bellefleur's Chocolate Cake recipe (with the surprise ingredient you won't believe)
There's a great Q&A with Charlaine Harris that I found informative and a detailed list of characters should you want it.
I think the quiz question section is poorly laid out if you are, like me, just reading the book for fun, since the answers are listed at the end of the questions. I wasn't quizzing myself so I wasn't interested in flipping between pages for the answers, but if you ever have a Sookie Stackhouse quiz party this section could come in handy.
There is also a detailed list of characters, in case you were wondering who a character was and an interview with Alan Ball about True Blood
.
All in all, if you are a big fan of the series this is a book you'll want to add to your collection, but if you are a more casual fan you could get by without it.
a fun addition for Sookie fans