I want to thank everyone who's been following
Cold Moon Violet Books
I love reading and I love blogging to and I've had such a great time getting to know so many other bloggers and reading your blogs too.
thanks to all of you I've reached my first follower goal (and passed it a little bit). I (obviously) choose 111 followers since my goal for the year is 111 books.
The winner of the draw was
Once Dead, Twice Shy signed by Kim Harrison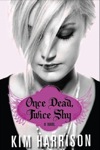 & a copy of
Happy Hour at Casa Dracula by Marta Acosta
(**alternate prize is $10 from the bookdepository.com)
Congratulations
Jennifer!