Waiting on Wednesday is a weekly meme hosted by Breaking the Spine that highlights upcoming releases we're eagerly anticipating!
Something Deadly This Way Comes
by Kim Harrison
release date: MAY 24TH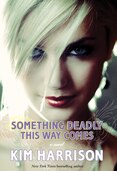 I'm Madison Avery, in charge of heaven's hit squad . . . and fighting it all the way.
When Madison died the night of her prom, she knew her life would never be the same. Now she has a powerful amulet, a team of rogue angels by her side, and the ability to flash forward into the future to see the shape of destiny. And of course, now she's finally with Josh-a perfect boyfriend who doesn't even mind that she's dead.
But being dead has its disadvantages, too. Madison feels caught between the light and the dark, and between her real life and her timekeeper status. When Madison has the opportunity to get her body back-to be alive again-she faces her most difficult decision yet. If she claims it, she could return to being a normal girl-and have a chance at a real relationship with Josh. But would having the one thing she wants most in the world also mean giving up everything she's worked so hard for?
This is the third, and I believe final book in the Madison Avery series by Kim Harrison. I love Kim Harrrison's writing style and fans of YA UF and The Hollows will love this series. The first two books in the series are
Once Dead, Twice Shy &
Early to Death, Early to Rise
with a prequel short story called Madison Avery and the Dim Reaper in Prom Nights From Hell Anthology
I can't wait to find out what happens to Madison and what she'll decide to do. Nothing has gone the way she expected.