I'm actually not here right now, I'm (hopefully) having a spectacular time in Disneyworld. but I wanted to remind everyone of two awesome books that are out today.
Being a book-nerd I'm a little choked that I can't settle in to read these two books until next week. I feel like I've been waiting for them
forever
- well maybe since last year, but that's long enough. I'm not planning on bringing my e-reader with me, just my paperback of
The Darkly Luminous Fight for Persephone Parker.
This is family vacation and my focus will be spending time with my husband and kids, not devouring books in the hotel, but that doesn't mean I don't want to the rest of you missing out so without further ado,
Magic Slays (Kate Daniels #5) by Illona Andrews
"Plagued by a war between magic and technology, Atlanta has never been so deadly. Good thing Kate Daniels is on the job. "
Kate Daniels may have quit the Order of Knights of Merciful Aid, but she's still knee-deep in paranormal problems. Or she would be if she could get someone to hire her. Starting her own business has been more challenging than she thought it would be-now that the Order is disparaging her good name. Plus, many potential clients are afraid of getting on the bad side of the Beast Lord, who just happens to be Kate's mate.
So when Atlanta's premier Master of the Dead calls to ask for help with a vampire on the loose, Kate leaps at the chance of some paying work. But it turns out that this is not an isolated incident. Kate needs to get to the bottom of it-and fast, or the city and everyone dear to her may pay the ultimate price..."
I love Kate (and Curran) and this is easily my favourite Urban Fantasy series. If you are already a fan, I'm sure you're looking forward to this one as well, if not I highly recommend checking out

Magic Bites, the first in the series. Also, www.ilona-andrews.com is a great author website. There are lots of fun treats for fans.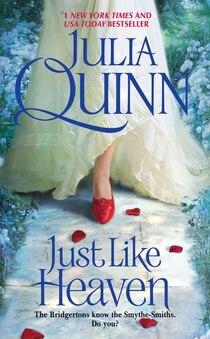 Just Like Heaven by Julia Quinn
A) a really bad violinist
B) still miffed at being nicknamed "Bug" as a child
C) not in love with her older brother's best friend
D) all of the above

Marcus Holroyd is:

A) the Earl of Chatteris
B) regrettably prone to sprained ankles
C) not in love with his best friend's younger sister
D) all of the above

Together they:

A) eat quite a bit of chocolate cake
B) survive a deadly fever and the world's worst musical performance
C) fall quite desperately in love


It's Julia Quinn at her best, so you know the answer is . . .

D) all of the above




I will openly admit that I love Julia Quinn's books. They are pure comfort food reading and this book looks to be mashed potatoes and baked macaroni and cheese kinds of good. Fans of Quinn's books know the Smythe-Smith girls have a bit of a reputation and this, the first in a quartet of Smythe-Smith books promises to be awesomesauce.




I know lots of readers also love the Nalini Singh Psy/Changling series. I've only dipped my toes in this one, but I know there is a lot of excitement around the newest one,

Kiss Of Snow

and it's definitely on my radar for the future.

If you have any other books you're excited for, let me know. I'm always looking for new reads that have slipped through my radar!




I'll be back next week with new reviews and posts!

Happy Reading!