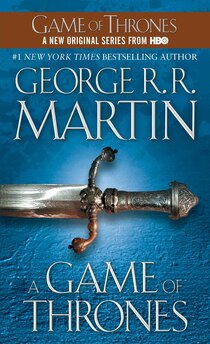 So After the Book Blogger Hop and the subsequent chocolate discussion, I wanted to give you all a special treat, My Best-est Brownies Ever recipe and since Game of Thrones starts tomorrow night, why not make them tomorrow to enjoy while watching.
I'm stretching books to include TV today because I'm really excited about this series. I haven't read the series, but I really want to. Game of Thrones will be on HBO tomorrow night.
The description of the tie-in book is
Long ago, in a time forgotten, a preternatural event threw the seasons out of balance. In a land where summers can last decades and winters a lifetime, trouble is brewing. The cold is returning, and in the frozen wastes to the north of Winterfell, sinister and supernatural forces are massing beyond the kingdom's protective Wall. At the center of the conflict lie the Starks of Winterfell, a family as harsh and unyielding as the land they were born to. Sweeping from a land of brutal cold to a distant summertime kingdom of epicurean plenty, here is a tale of lords and ladies, soldiers and sorcerers, assassins and bastards, who come together in a time of grim omens.

Here an enigmatic band of warriors bear swords of no human metal; a tribe of fierce wildlings carry men off into madness; a cruel young dragon prince barters his sister to win back his throne; and a determined woman undertakes the most treacherous of journeys. Amid plots and counterplots, tragedy and betrayal, victory and terror, the fate of the Starks, their allies, and their enemies hangs perilously in the balance, as each endeavors to win that deadliest of conflicts: the game of thrones
And Now, here is my Best-est Brownies Ever recipe
Ingredients
1/4 cup margarine
1 cup sugar
3 oz unsweetened chocolate
2 eggs
1/2 cup A.P. flour
1/2 tsp Baking powder
1/4 tsp salt
1/2 cup chopped walnuts (or pecans)
1/2 cup mini chocolate chips
1/2 tsp vanilla
Preheat oven to 350F
cream margarine and sugar until blended with electric hand mixer
add Eggs, beat on med-high
add melted unsweetened chocolate and vanilla (melt chocolate in glass bowl over boiling water)
blend
add flour, baking powder and salt, mix on med-high
add chocolate chips and nuts, beat
spread in lightly greased 8x8 square baking pan
Bake for 20-30 minutes ***Do not over cook. I live at a high altitude and cooking times can vary.
If you want to go wild, drizzle these brownies with Brown sugar Icing (This is my mum's recipe. You can find more recipes from her at
Our Little Canadian Kitchen
)
Mom's Brown Sugar Icing
1/2 cup butter
1 cup brown sugar
1/4 cup milk
2 cup icing sugar
melt butter in saucepan
stir in brown sugar
heat to boiling (while stirring)
boil and stir about 2 minutes over low heat
remove from heat and slowly add milk, stirring
heat back to boiling, then remove from heat and cool until you can stick your finger in it.
beat in icing sugar (about 1/2 cup at a time)
you can use more of less icing sugar as needed, I'm pretty sure you could halve this recipe too, since you don't need much for the brownies
Enjoy!
I'm about halfway through
Beyond the Highland Mist
by Karen Marie Moning, then I'm going to try and finish
At Grave's End
by Jeaniene Frost
and
Branded by Fire
by Nalini Singh. After That I really want to read
The Iron Queen
by Julie Kagawa.
I really need to finish these books up, then I'll find something new, plus there are a few books I'm really excited for in May