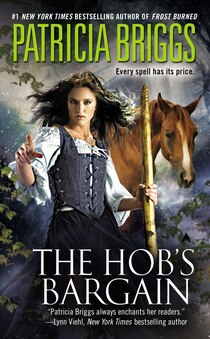 "To save her village from ruthless raiders, Aren of Fallbrook strikes a bargain with the Hob, a magical, humanlike creature imbued with the power of the mountains. But the Hob will exact a heavy price to defend the village--a price Aren herself must pay".
This is an older novel by Patricia Briggs, and is a stand-alone tale. It's a quick read, I started it last night and finished it this morning. I liked it, but I didn't love it. I had trouble really connecting to the characters so I didn't care what happened to them. This made it hard for me to get really into the story. I don't have to much to say about this book. I liked Masques and Wolfbane more so I would recommend them over The Hob's Bargain, but if you are a fan of Patricia Briggs, you will like this book. The idea behind the story was interesting and I liked the magic elements. Briggs always writes interesting female lead characters. They are usually older and stronger (physically and mentally) than the other women in the book (and than the usual heroine) and Aren is no exception. The back cover call this a "Beauty and the Beast" story but there isn't really romance between Aren and the Hob. They do fall in love, but the focus of the book is Aren and her village coming to terms with a changing world. The book felt like the first in a series and if Briggs decides to write more in this world I would definitely read it.
Overall, it was good but not great.
Rating
3 out of 5
Up Next
Eternal Rider by Larissa Ione - Something about this book intrigues me - and not just the cover ; ) and I'm really excited to read this one
Also, I made a new Title Banner for the Blog, but I'm still playing around with it so don't mind the colours on the blog changing around here and there. If they look a little off it's just because I've been called away to do something else and this has to wait.
And, I've made a Blog Button for Cold Moon Violet that I hope you like. I started a Buttons Page and the HTML in the scollbox will give you the button I've posted. It's also something I'm still practicing with so please bear with me