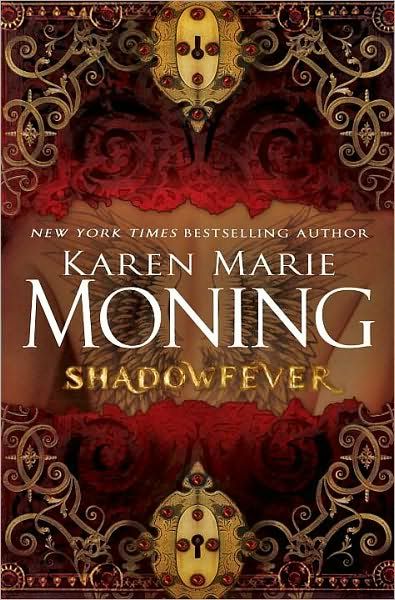 "Evil is a completely different creature, Mac. Evil is bad that believes it's

good

."

MacKayla Lane was just a child when she and her sister, Alina, were given up for adoption and banished from Ireland forever.
Twenty years later, Alina is dead and Mac has returned to the country that expelled them to hunt her sister's murderer. But after discovering that she descends from a bloodline both gifted and cursed, Mac is plunged into a secret history: an ancient conflict between humans and immortals who have lived concealed among us for thousands of years.
What follows is a shocking chain of events with devastating consequences, and now Mac struggles to cope with grief while continuing her mission to acquire and control the

Sinsar Dubh

-a book of dark, forbidden magic scribed by the mythical Unseelie King, containing the power to create and destroy worlds.
In an epic battle between humans and Fae, the hunter becomes the hunted when the

Sinsar Dubh

turns on Mac and begins mowing a deadly path through those she loves.
Who can she turn to? Who can she trust? Who is the woman haunting her dreams? More important, who is Mac herself and what is the destiny she glimpses in the black and crimson designs of an ancient tarot card?
From the luxury of the Lord Master's penthouse to the sordid depths of an Unseelie nightclub, from the erotic bed of her lover to the terrifying bed of the Unseelie King, Mac's journey will force her to
face the truth of her exile, and to make a choice that will either save the world . . . or destroy it.
I've made no secret of my LOVE for this series. I've thrilled, rejoiced and suffered through these five books and I adore this series. These are the kind of books that you obsess over when you're not reading them. I couldn't read Shadowfever right before bed or I'd lay awake thinking about what might happen next and obsessing over what I'd just read. There were so many twists and turns that I could never have predicted how it all would end, but at the same time, everything that happened (with the exception of Dani -OMG) was something that I had considered as a possibility. Nothing came straight out of left field, there were hints and clues that gave the ending logic.
This was the conclusion of the Fever Series, but KMM is going to be writing another series set in the Fever world and, really, she sort of has to. Anyone who has read (and loved) this series needs more. While the main plot of this series was properly concluded, there were a few characters who were definitely left hanging with some unresolved issues.
I honestly can't recommend this series enough. It is dark and you have to follow Mac through some ugly places but it really was interesting. If you enjoy a good mystery with your fantasy this is a great series for you.
I don't want to say too much about the plot since if you are reading this I want you to go and read the series, and since the series is full of mystery and suspense the less you know about what will happen the more you'll enjoy it. I made a point not to read any of the back covers ahead of time so it would all be fresh. Although, as I've mentioned before, the back covers are very misleading.
I also realized something else about the Fever series last night. I keep saying these books are not romances/sexy but there is actually A LOT of sex in them, the difference is that it's essential to the plot (there might be one or two in Shadowfever, that while not essential to the plot, were definitely essential to fans of Jericho Barrons!) There is also a significant rape that occurs during the series. I generally hate rape in books, but in this series it serves a VERY significant plot point and was essential to the story so it's worth reading past. Some of the sex scenes in the first book may seem unnecessary, but in the larger plot of the series they turn out to be important.
There were many well thought out layers that gave all of the secondary characters so much depth, making me even more excited to know there will be more books in the Fever world.
Rating
Surprise, surprise! 5 out of 5...seriously people. Love these books.
Up Next... will probably be Iron Daughter, I've been putting it off because I really liked Iron King and I'm afraid I'll be disappointed. I'm dreading being let down. I've got a bad history with YA sequels letting me down. (I'm looking at you Blue Moon and Crescendo (a) you don't get to be immortally in love and then forget thisfast and (b) Nora was unreasonably untrusting and damn you for then having a great cliff hanger ending so now I have to read book 3)
If I'm not ready to take the plunge into Iron Daughter then it'll be The Gathering by Kelly Armstrong. I liked The Darkest Powers trilogy and her Otherworld books, although I've been slow reading them. I got bored reading Dime Store Magic so I keep meaning to skip up one to Industrial Magic to get back into them.
I also have to finish Branded by Fire by Nalini Singh. I got a little bored with all the sex and took a break
plus At Grave's End by Jeaniene Frost. I took a break when I had the flu, since I can't read UF when I'm sick or I have wonky dreams, but now it's buried in the book pile and I need to get around to digging it out. Plus I want to read Karen Marie Moning's Highland series, since I must like her writing.