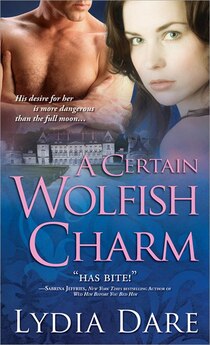 "The rules of Society can be beastly-especially when you''re a werewolf and it''s that irritating time of the month. Simon Westfield, the Duke of Blackmoor, is rich, powerful, and sinfully handsome, and has spent his entire life creating scandal and mayhem. It doesn''t help his wolfish temper at all that Miss Lily Rutledge seems not the least bit afraid of him, and in fact, may be as untamable as he is...
A woman whose charm is stronger than the moon...
When Lily''s beloved nephew's behavior becomes inexplicably wild, she turns to Simon, the boy's cousin and guardian, for help. But Simon's idea of assistance is far different than hers, and Lily finds herself ensconced in his house and engaged to the rogue.
They both may have bitten off more than they can chew when each begins to discover the other's darkest secrets..."
I sort of fell into reading this book. I was looking for something light-hearted to read between
Cold Magic
by Kate Elliot and
Shadowfever
by Karen Marie Moning. The Fever Series is so intense, so I wanted something light as a palate-cleanser between books. I came across a review of the newest Lydia Dare book,
It Happened One Bite
on

Froggerita's Bookcase. Since it sounded like something I'd like and I like to read books in order, I figured I'd start at the beginning with the first book, A Certain Wolfish Charm. While these books don't have to be read in order, sometimes it's just more fun to read romance series in the order they are written.
I really enjoyed A Certain Wolfish Charm. If you like light-hearted romance novels and you like paranormal creatures, you will too. It's that simple. This is the first of a trilogy about the three brothers, Simon, Will and Ben. After that I don't know what connection (if any) characters might share. What I do know is that this book had a light, fun tone that I enjoyed.
There were a couple of plot lines that felt unfinished or unnecessary, such as Simon's former lover mean-girling Lily at an inn on the road and in London, but nothing that takes away from the fun of the book.
The romance side of the plot is straightforward. Werewolf smells woman who is meant to be his mate, marries her against his better judgement but can't resist her and tries to hide his true self in fear of her rejection. She is (of course) stronger and more sensible than he gives her credit for, and proves that she can take his beastly love (with sexy results).
It was exactly what I was expecting (and hoping for) when I started reading it and I'll definitely be reading more.
Rating
3.5 out of 5
What I'm reading next
Shadowfever
by Karen Marie Moning