River Marked by Patricia Briggs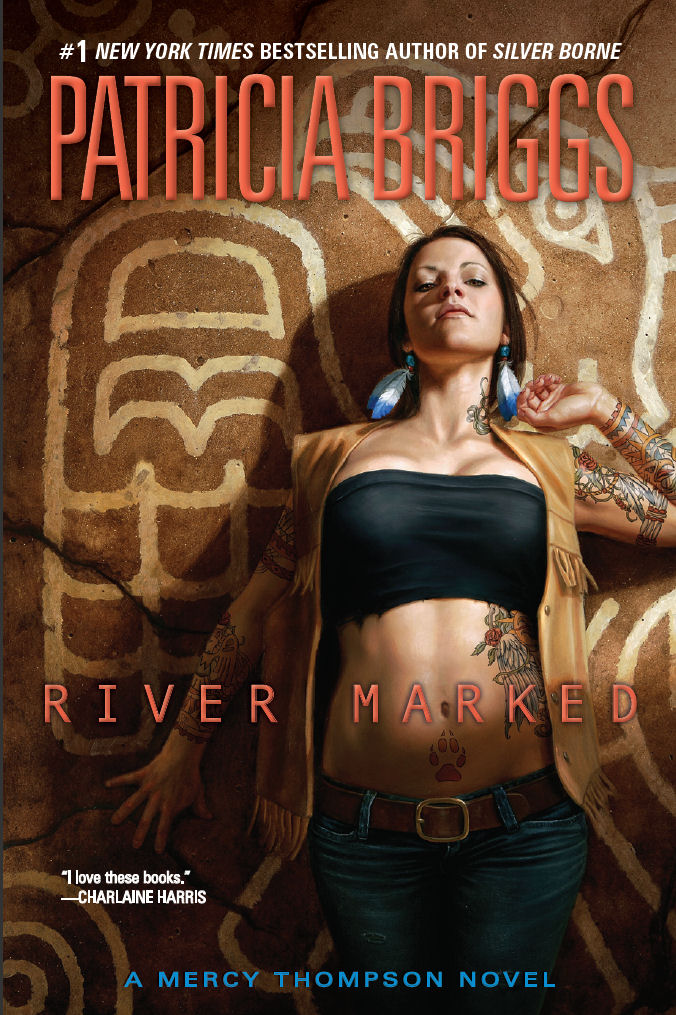 "Car mechanic Mercy Thompson has always known there was something different about her,

and not just the way she can make a VW engine sit up and beg. Mercy is a shapeshifter, a talent she inherited from her long-gone father. She's never known any others of her kind. Until now.
An evil is stirring in the depths of the Columbia River-one that her father's people may know something about. And to have any hope of surviving, Mercy and her mate, the Alpha werewolf Adam, will need their help.."
Since it's only March and this is the third Patricia Briggs book I've read this year, obviously this is an author I enjoy reading and along with that, I really like the Mercy Thompson Series. That said, I really liked this addition to the series.
River Marked started with a fun surprise and then slowed down for a bit, but, once it picked back up again it was action packed right to the end.
While all the regulars are around at the beginning of the book, Mercy and Adam quickly take off on their own, so the book is mostly just the two of them. I think this was why the book slowed down for a chapter of two (there are only 13 chapters and 324 pages). Once some new characters show up the story really gets going and I got into the book.
River Marked deals with Native American myths and since Mercy is half (what tribe is a bit of a joke question throughout the book) and a coyote, we finally learn more about who and what Mercy is. Coyote shows up to help Mercy and Adam out and he was definitely my favorite character. Since there are some Fae dealings as well, the good old walking stick shows up again too. We also see Stefan both at the beginning and the end of the book and I have a feeling something big with the vampires is coming soon. Mercy hasn't resolved things with Marsilia, the head vampire and now that she may have Coyote on her side it would be quite the fight.
If you've never read any Mercy Thompson books, this book could be read as a stand alone since it doesn't deal with any other characters so you don't need to know any history, however I would recommend starting at the beginning of the series with Moon Called.
Overall, another solid novel in a great series.
Rating
4.5 out of 5
What's Next
Hah- I actually have a clear planned out list for the next few books. Let's see if I can actually follow it.
finishing Cold Magic by Kate Elliot
then Shadowfever by Karen Marie Moning
next, Iron Daughter by Julie Kagawa
and if I'm still actually following the list, it'll be The Gathering by Kelley Armstrong since it should be out by then. I think City of Fallen Angels by Cassandra Clare is out then too but that's less a priority.