Dreamfever by Karen Marie Moning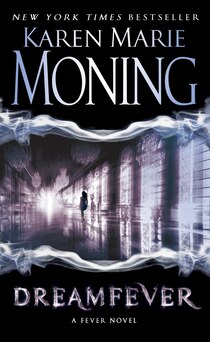 "He has stolen her past, but MacKayla will never allow her sister's murderer to take her future. Yet even the uniquely gifted
sidhe-
seer is no match for the Lord Master, who has unleashed an insatiable sexual craving that consumes Mac's every thought-and thrusts her into the seductive realm of two very dangerous men, both of whom she desires but dares not trust.
As the enigmatic Jericho Barrons and the sensual Fae prince V'lane vie for her body and soul, as cryptic entries from her sister's diary mysteriously appear and the power of the Dark Book weaves its annihilating path through the city, Mac's greatest enemy delivers a final challenge.…
It's an invitation Mac cannot refuse, one that sends her racing home to Georgia, where an even darker threat awaits. With her parents missing and the lives of her loved ones under siege, Mac is about to come face-to-face with a soul-shattering truth-about herself and her sister, about Jericho Barrons…and about the world she thought she knew."
I've been trying my best to stretch this series out because IT"S SO GOOD!. I make myself wait between books so I won't rush through the series and now I only have one book left. I was going to wait until the paperback of Shadowfever came out, which I thought was May but I see on the Chapters website is August. I can't wait until August.
The Fever Series is just so unique and interesting. Reading the back covers really doesn't do these books justice. The above description of Dreamfever makes the book sound like it is all about sex or like it's a love triangle between Mac, Jericho Barrons and V'lane. That's not even remotely the case.
This series is about a young woman who goes to Ireland to find the murderer of her sister (and best friend) Alina. Instead, over the last four books, she had discovered the Fae world, some of who (and what) she might be and a whole lot of CRAZY stuff happens. This series takes you on an amazing journey.
I've always said I don't think these books are romances or that they belong in the romance section (Noting that I read books from the romance section, so this is not a bias, these books belong in the fiction section). Yes, there is something between Mac and Barrons and maybe it'll turn out to be love, but the way the books are written, Mac's just as likely to end up in a fight to the death with Barrons at the end. (The same could also be argued for V'lane but is less likely). These books don't have soft moments. They are hard and violent and sometimes really ugly, but Mac's fight for the truth and for her soul is compelling. Ms. Moning keeps promising light at the end, but she isn't afraid to leave Mac with quite a few scars.
Dreamfever ends on a cliffhanger and I can't wait to continue Mac's journey. She's grown so much in the books and suffered and fought and changed. One of the gifts that Ms. Moning has is in letting her character's make questionable choices, even "stupid" ones while always making these choices logical and believable. When Mac makes a choice, we understand why she does it, since it's always based on what we know at the time and probably the choice most of us would make. Most mistakes only become mistakes when we see the consequences later in the book/series.
I highly recommend this series!
The books in order are
Darkfever
Bloodfever
Faefever
Dreamfever
Shadowfever
Rating
5 out of 5
Up Next
reading River Marked (a Mercy Thompson Novel) by Patricia Briggs
Next:
Iron Daughter by Julie Kagawa
Shadowfever by Karen Marie Moning
Angel's Blood by Nalini Singh