I
am
reading
A Test of Wills
by Charles Todd and I'm really enjoying it, but I lost my page and wandered away. I expect to find it soon, but meanwhile the reading must go on! I read
The Unlikely Countess
on Monday and most of yesterday I spent working on
The Iron King
by Julie Kagawa. I think I'll be finishing it either tonight or tomorrow. I've already bought
The Iron Daughter
on my Kobo as I've really enjoyed the first book. I was off most YA fantasy after a couple of weak ones, but so far Julie Kagawa is telling a great story without ruining it with the melodramatic fontrum that kills some YA. I will be finishing
A Test of Wills
soon, before
Iron Daughter
at least. Being about the Fae, they're making me really want to get on with reading
Dreamfever
, but I know that once I've read it, I'll need to read
Shadowfever
and then I'll be done and, honestly, I'm enjoying the suspense of not knowing what's going to happen to poor Mac next.
Also I managed to go back and add cover art and synopsises for all the books I've reviewed.
And now for my review.
An Unlikely Countess by Jo Beverley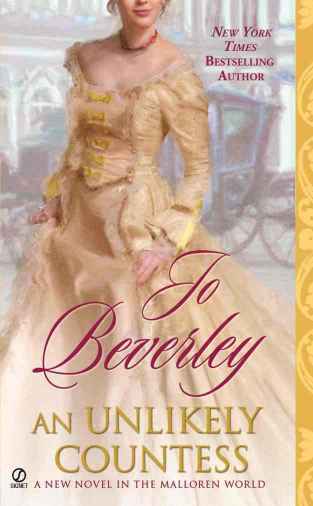 "
Prudence Youlgrave is out to marry above her station and secure a happy life. Catesby Burgoyne is out to continue his noble family's good name. When fate pushes them together, they are married-but this inconvenient marriage of convenience quickly turns into something much more..."
I haven't had great luck with reading romances I've really enjoyed lately, so this book was a pleasant surprise. This is the first book by Jo Beverley I've read but I'll definitely try more. While it is the newest book in a series, I didn't feel left out or like I was missing something. The Characters were interesting and LIKEABLE! It is amazing how many men in romance novels have annoyed me lately. I've been stuck in a Jackass Hero rut and it was so nice to get out of it! While the characters get married fairly quickly without really knowing each other, Beverley really let them take their time getting to know each other. Both Cate and Prudence had things in their past they weren't proud of but they weren't over dramatic about. They both accepted that they had sort of fallen into being married (they both wanted it more then they wanted to stop it) so why be dramatic. (small spoiler coming!) Prudence is upset that Cate does not want to consummate the marriage, but when asked why they haven't by his mother, she comes up with the obvious reason, her previous fiance says they already did it and they don't want anyone to question the legitimacy of any offspring so they are waiting long enough that parentage won't be a question. When she thinks of this she agrees it makes sense. She doesn't waste time getting all huffy about it. All in all this was an enjoyable romance about two people who fall in love and it was fun to read.
Rating
3.5 out of 5