Proof By Seduction by Courtney Milan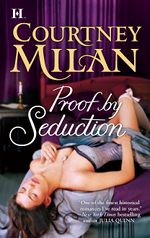 "She was his last chance for a future of happiness..."
A gifted fortune-teller from a humble background, Jenny can make even the most sophisticated skeptic believe her predictions simply by batting her smoky eyelashes. Until she meets her match in Gareth Carhart, the Marquess of Blakely, a sworn bachelor and scientist.
"He just didn't know it yet"
Broodingly handsome, Gareth is scandalized to discover his cousin has fallen under the spell of "Madame Esmerelda," and vows to prove Jenny a fraud. But his unexpected attraction to the fiery enchantress defies logic. Jenny disrupts every facet of Gareth's calculated plan--until he can't decide whether to seduce her or ruin her. Now, as they engage in a passionate battle of wills, two lonely souls must choose between everything they "know."..and the boundless possibilities of love."
I read this one in between reading some other books. I thought I'd try another Courtney Milan book since I enjoyed
Unveiled.
I wasn't a big fan of this book. I'd heard good things about it but I was disappointed. I'm really tired of jackasses for heroes and the "hero" of this book was 100% jackass. There was also lots of implausible plot antics. I got to the point where I just didn't care anymore. I didn't like Jenny (and I actually had to stop and think what her name even was!) and the dude, Blakely? I think he was a Duke but really he was so unlikable I'm not even going to bother describing him or anything about their romance. But I would like to say that when a man tells a woman that nobody would ever think she is as important as he is, he is DONE. I disagree that you can move forward after that kind of talk (and there is plenty). On a side note, I really liked the second story of Ned and Lady Kathleen and if they have a book telling their story I'll read that. I found myself wishing I was reading about them instead.
Overall, I do like Courtney Milan's writing style but this one did not work for me.
Rating:
2.5 out of 5
What I'm reading next:
Started A Test of Wills by Charles Todd,
going to read Faefever soon!
River Marked (Mercy Thompson) by Patricia Briggs