I've had to shift my reading plans around a little bit. As I said, I really liked
The Strangely Beautiful Tale of Miss Percy Parker
and can't wait to read the sequel
The Darkly Luminous Fight for Persephone Parker
, unfortunately it's not available in paperback at the moment. It's being rereleased in May in trade paperback so I need to decide if I'm going to wait until may and buy the trade paperback or buy the ebook now. I think I want the paper book so that'll mean waiting until May. I have lots of other books to read to this might just be the new plan.
I'm in the mood for something new so I think I'll be reading the Charles Todd books and/or Don't Kill the Messenger.
The Shy Duchess
by Amanda McCabe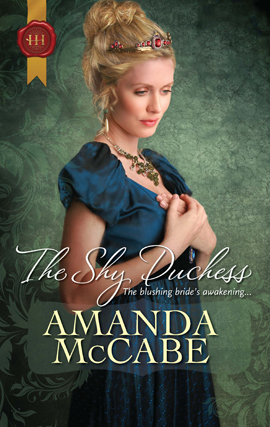 "With her golden hair and dazzling emerald eyes, Lady Emily Carroll should have her pick of suitors. Instead, her crippling shyness has earned her the nickname "Ice Princess."
Nicholas, Duke of Manning, isn''t looking for a bride, but he won''t pass up a stolen kiss at a masked ball.
With her blushes hidden, Emily lets her inhibitions go. Only to find herself betrothed! Now it''s her wedding night, and her new husband seems determined to thaw his Ice Princess and reveal her every secret"
I was looking forward to reading this book and I found it at the book store the other day. I'd read the first four chapters free at barnesandnoble.com and I wanted to finish it. I've mentioned before my weakness for shy heroines and Dukes.
It's a Harlequin Historical and not very long. Basically shy but very beautiful girl must marry Duke after tripping and falling on him and thus being caught in compromising position. She's called the Ice Princess but she warms his heart. It's Happily Ever After with no real drama and everything you want in this style of book. My only complaint is that there were a couple of scenes where the characters seemed to jump positions (eyes open then suddenly closed) but overall it was an enjoyable story.
No Rating since this is the kind of book you already know if you like before you read it.