Unveiled by Courtney Milan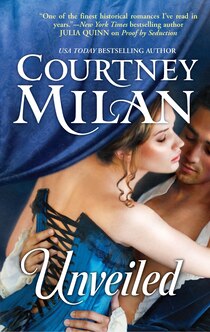 "Ash Turner has waited a lifetime to seek revenge on the man who ruined his family—and now the time for justice has arrived. At Parford Manor, he intends to take his place as the rightful heir to the dukedom and settle an old score with the current duke once and for all. But instead he finds himself drawn to a tempting beauty who has the power to undo all his dreams of vengeance….
Lady Margaret knows she should despise the man who''s stolen her fortune and her father''s legacy—the man she''s been ordered to spy on in the guise of a nurse. Yet the more she learns about the new duke, the less she can resist his smoldering appeal. Soon Margaret and Ash find themselves torn between old loyalties—and the tantalizing promise of passion…"
A new book! It's been awhile. I still feel terrible, but I managed to read something new! After rereading the previously mentioned books I also reread It's In His Kiss and To Catch an Heiress by Julia Quinn. I chose Unveiled because it was the recommended book (for discussion) at Smart Bitches, Trashy Books. I've never read any Courtney Milan books before and I wasn't sure what to expect.
I've decided that I'm REALLY picky about what romances I actually like. For someone who really does like romances I don't like very many of them very much. As I've mentioned before, there are somethings I irrationally hate in romance novels. I hate horses. I hate men training horses, riding horses and especially discussing horses. I hate the word horseflesh. I also hate any discussion of a man's thighs (or his man-breasts/nipples - yuckie), Men who tie their hair back with pieces of leather, and most importantly: I hate characters who react based on the plot, not who they are.
So imagine my joy when I actually liked this book! The plot is balderdash, but as this is a work of fiction I'm willing to let that slide since the characters are delightful and the writing was fun, with some wonderful turns of phase.
The heroine, (Lady Anna) Margaret was smart, loyal and actually grew during the book. I loved the choices she made throughout the book. They were logical to the character. I knew what I wanted for her, and despite this being a romance (guaranteed happy ending) I wasn't sure what that ending would end up being. There was a nice sense of suspense to the story and Margaret finally making the choice to be an active participant deciding her fate was a nice ending.
The Hero, Ash Turner, as great. He grew on the reader, just like he grew on Margaret. Getting to know the character didn't forgive his behaviour, but it actually did explain it. Ash was so well thought out and created as a character that he really did act according to himself and not the plot. There are multiple scenes where Ash acts in character despite the way it goes against what we are expecting from the story.
It was great to read a book where I really liked how the characters were created. Even Margaret's brother Richard was well created, being not evil, but weak. Everyone felt fully realized and it added so much to the story.
I'm looking forward to trying more of Courtney Milan's work. It was very refreshing to read a book that was above expectations.
Rating
3 out of 5
What I'm reading now
I'm going to finish At Grave's End
I ordered some books online that should be here soon (Dreamfever!)