Bloodfever
by Karen Marie Moning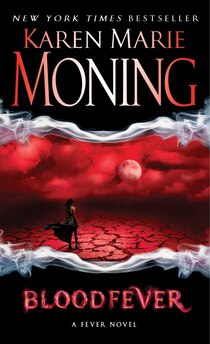 "I used to be your average, everyday girl but all that changed one night in Dublin when I saw my first Fae, and got dragged into a world of deadly immortals and ancient secrets. . . .

In her fight to stay alive, MacKayla must find the Sinsar Dubh-a million-year-old book of the blackest magic imaginable, which holds the key to power over the worlds of both the Fae and Man. Pursued by assassins, surrounded by mysterious figures she knows she can't trust, Mac finds herself torn between two deadly and powerful men: V'lane, the immortal Fae Prince, and Jericho Barrons, a man as irresistible as he is dangerous.

For centuries the shadowy realm of the Fae has coexisted with that of humans. Now the walls between the two are coming down, and Mac is the only thing that stands between them"
Yes, I said I was going to start Wolfsbane, but I ended up walking past the bookstore at the mall on Sunday. They happened to have Bloodfever, the second in the Fever series following Mackayla Lane in her quest to find her sister's murderer and to find the Sinsar Dubh, an evil Fae book that everyone seems to be trying to find.
This book picks up right where Darkfever leaves off and continues at the same quick pace with lots of adventure and action. While we learn more about Mac and her new "powers" there are still more questions than answers. I'm looking forward to seeing how Mac deals with the choices she's going to have to make. I love how the author references the future, as though Mac is telling us her story from a future when she is much wiser and much more jaded. It gives a unique tension to the narrative, with the reader left wondering just what is going to happen to Mac to change her so much.
This series can be found in the romance section, but it doesn't belong there. It isn't a romance at all and I'm guessing it's there because the author is better known for her romances and this way all her books are together. There is some tension between Mac and Jericho Barrons but it isn't romantic. There is something bigger going on there and I can't wait to find out what it is.
I'm definitely excited to read the rest of this series so Book 3, Faefever is now high on my list of reads.
Rating
4 out of 5
What I'm reading:
Starting Wolfsbane now.
Finishing The Exile so I can review it.
Did the new Mercy book come out today?