Darkfever
by Karen Marie Moning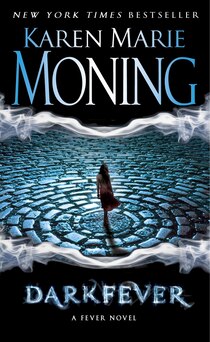 "MacKayla Lane's life is good. She has great friends, a decent job, and a car that breaks down only every other week or so. In other words, she's your perfectly ordinary twenty-first-century woman. Or so she thinks…until something extraordinary happens.
When her sister is murdered, leaving a single clue to her death-a cryptic message on Mac's cell phone-Mac journeys to Ireland in search of answers. The quest to find her sister's killer draws her into a shadowy realm where nothing is as it seems, where good and evil wear the same treacherously seductive mask. She is soon faced with an even greater challenge: staying alive long enough to learn how to handle a power she had no idea she possessed-a gift that allows her to see beyond the world of man, into the dangerous realm of the Fae….

As Mac delves deeper into the mystery of her sister's death, her every move is shadowed by the dark, mysterious Jericho, a man with no past and only mockery for a future. As she begins to close in on the truth, the ruthless Vlane-an alpha Fae who makes sex an addiction for human women-closes in on her. And as the boundary between worlds begins to crumble, Mac's true mission becomes clear: find the elusive Sinsar Dubh before someone else claims the all-powerful Dark Book-because whoever gets to it first holds nothing less than complete control of the very fabric of both worlds in their hands…."
I know Karen Marie Moning's Highlander books are really popular, but I haven't gotten around to reading any of them yet so this was my first Karen Marie Moning book.
I really liked
Darkfever
, the story of Mackayla Lane's search for what happened to her murdered sister is interesting and fresh, I loved Moning's take on the Fae and the way she wove her story through Dublin. Everything was believable and
interesting.
It's awful to say, but there are very few books where I actually care what happens next. I found myself wondering where the story was going and unable to predict the outcome. I'm excited to see where the series goes and the second book in the series,
Bloodfever
is now high on my priority list. I liked Mac. I like heroines who are girly, being girly myself. Jericho Barrons was interesting and I never really trusted him. He was technically the hero of the book, but who he is and jsut how good a guy he really is, isn't answered in this book. There was a scene near the end when Mac confesses to suspecting Barrons just like I did (and I suspect most readers did too) that was really satisfying. If I have one issue with the writing, it was the constant reminders of Barron's contained sexual energy/attractiveness. Every single time Mac sees him, it's commented on. Okay, I get it! He's sexy and and some point there's going to be a little somethin' somethin' between them. Must we be reminded of Barrons physicality EVERY TIME he enters the room? But over all that's a small complaint.
I liked the darkness of this series. It has a foggy, abandoned feel that makes you want to drink hot cocoa while you're reading. This is a short review but since it's the first in a series that is already out, I hate commenting on it too much since I'm looking forward to analyzing it when I finish it.
This is the first in the series, but I think I'm going to end up a Karen Maire Moning fan. I can't wait to read the second installment in the series. I can't compliment a book more then that.
Rating
4 out of 5
What I'm reading
Bayou Moon (almost done)
Haunted Honeymoon (still at the beginning)
going to be reading Bloodfever
also, Wolfbane, Blood Song, A Fatal Waltz