Gentlemen Prefer Succubi by Jill Myles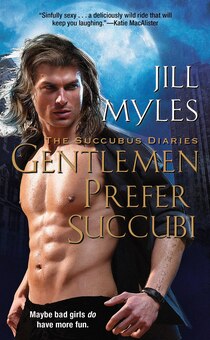 "Who Knew An Angel Could Get A Girl In So Much Devilish Trouble?
Jackie Brighton woke up in a Dumpster this morning, and her day has only gotten weirder. Her familiar B-cups have somehow become double Ds, her sex drive is insatiable, and apparently she had her fi rst one-night stand ever...with a fallen angel. All she remembers is gorgeous Noah''s oddly hypnotic blue eyes...and then a dark stranger whose bite transformed her into an immortal siren with a sexy Itch. With help from Noah, Jackie begins to adapt to her new lifestyle -- until she accidentally sends Noah into the deadly clutches of the vampire queen and lands herself in a fi erce battle for an ancient halo with the queen''s wickedly hot righthand man. Who just happens to be the vampire who originally bit her. How''s a girl supposed to save the world when the enemy''s so hard to resist?"
This was very random. Gentlemen Prefer Succubi is currently available free on Pocket After Dark. I was bored last night waiting for Hubby to finish cleaning the kitchen so we could watch the Golden Globes on the PVR. (yes, that whole sentence is awesome) and started reading it on my computer, finished it this afternoon.
This book is what it is. I actually liked it and will probably read the rest of the series. It is definitely steamy, but what else would you expect? The covers are AWESOME. I love cheesy looking covers of shirtless men. If you can't find charm in cheesy shirtless men, what do you have in life? When I was younger I used to have a poster of a shirtless man in leather pants holding a kitten. Yep, I did.
Anyhoo, so this is a genre of book, that you will either internally squeal with joy at the sexy-man cover and read quickly, only slowing down at the sexy parts, or, you will look at the cover, snort and move quickly on.
The plot is simple. Jackie (low self-esteem, glasses, chubby) has drunken one night stand with fallen angel, but was also bitten by a vampire, gets turned into super-sexy immortal succubus. Ends up having to save Noah, the angel from Vamp Queen with help of other succubus and sexy vampire (Zane) .
It's very light-hearted in the way the early Queen Betsy books by Mary Janice Davidson are. Bad things happen, but our heroine is light-hearted and dumb enough that nothing is taken too seriously.
Rating
2.5 out of 5
What I'm reading
Finishing Bayou Moon and Haunted Honeymoon
probably going to read Blood Fever by Karen Marie Moning