Masques by Patricia Briggs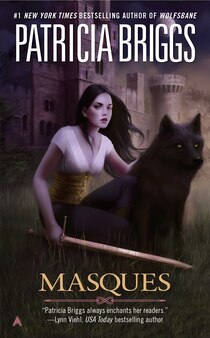 "After an upbringing of proper behavior and oppressive expectations, Aralorn fled her noble birthright for a life of adventure as a mercenary spy. Her latest mission involves spying on the increasingly powerful sorcerer Geoffrey ae'Magi. But in a war against an enemy armed with the powers of illusion, how do you know who the true enemy is-or where he will strike next?"
This was a random choice, since I was looking for something fun and new to read. I love the Mercy Thompson series so I figured I'd download this on the e-reader for fun.
Patricia Briggs actually apologizes at the beginning the the book for some of the choices she makes when she wrote the book, as Masques was her first novel. Keeping in mind that this was her first work, I really liked it. Obviously it isn't as polished as her later work, and a little more description would have been nice at some points, but one of Briggs strengths is her ability to write characters that you believe in and like. Aralorn is likable as a heroine. She has an interesting personality as she is a calming character who other characters are drawn to. The current style of heroine in fantasy is the tough-talking not always likable, ass-kicker, but Aralorn has a much calmer personality that I enjoyed in this book. She saw herself as tougher than the other characters in the story did and it was a surprise to see how they were responding to her. There is definitely a special skill needed to write a character who is sensitive and calm, but who is not weak and grating. Briggs has this skill as she also demonstrates it in her Alpha and Omega series with Anna.
Overall, I liked this book and I'm looking forward to reading the sequel Wolfsbane.
3.5 out of 5
Now and Next Up:
Reading The Little Stranger by Sarah Waters but slowly as I'm finding it slow to get into and I'm enjoying digesting it slowly.
Hexbound by Chloe Neill comes out today but isn't in the bookstores yet!
Finishing The Exile by Diana Gabaldon