Wolfsbane by Patricia Briggs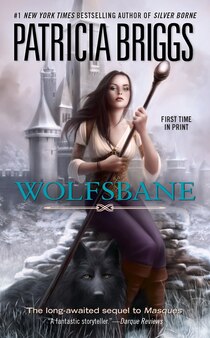 "Shapeshifting mercenary Aralorn leads a dangerous existence. Now she must return home for her noble father, the Lyon of Lambshold, has passed away. But when Aralorn and her companion Wolf arrive, they find he's not dead, but ensorcelled by the ae'Magi, using him as a conduit to destroy Aralorn and Wolf. She must overcome this mysterious mist or fall to the blackest of magic"
I was slow getting into this book but I finished it this morning. I ended up reading quite a bit of it to help me clear my head before I went to bed. I'd finished Faefever and couldn't go to sleep with that on my brain.
Wolfsbane is the sequel to Masques and is a better book. The story was good and I really like Aralorn and Wolf, but there is something about the books that makes them odd to read. As a reader I feel very removed from the characters and the story even as I like them and want to read about them. I think, if combined, the two books would make one great one. Masques has a wonderful love story at it's heart and the best part of it is the interactions between Wolf and Aralorn. The plot in Wolfsbane and especially the secondary characters are much stronger and more multidimensional.
I might be being harder on it because I had just finished Faefever, that inspired so much emotion in me and in contrast Wolfsbane feels flatter than it would otherwise.
Overall it was good and if the series is expanded I'd enjoy reading more, especially with more of Aralorn's family. I'll probably try reading some of Briggs' other fantasy novels to see what they are like, plus I think March first is the next Mercy Thompson (yay!)
Rating
3 out of 5
What I'm reading
At Grave's End
and something light not yet determined.