Faefever by Karen Marie Moning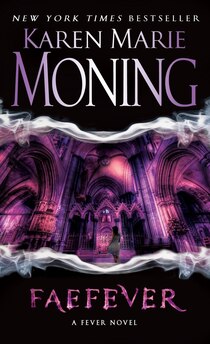 "
He calls me his Queen of the Night. I'd die for him. I'd kill for him, too.

When MacKayla Lane receives a page torn from her dead sister's journal, she is stunned by Alina's desperate words. And now MacKayla knows that her sister's killer is close. But evil is closer. And suddenly the sidhe-seer is on the hunt: For answers. For revenge. And for an ancient book of dark magic so evil that it corrupts anyone who touches it.

Mac's quest for the Sinsar Dubh takes her into the mean, shapeshifting streets of Dublin, with a suspicious cop on her tail. Forced into a dangerous triangle of alliance with V'lane, a lethal Fae prince, and Jericho Barrons, a man of deadly secrets, Mac is soon locked in a battle for her body, mind, and soul."
This is a hard book to comment on or review. I really to love this series, but as the centre book in a five part series it is dark, and hopefully the darkest of the series because I don't know if I can take much more! You know a book has a deeply unpleasant ending when the author includes a note at the end telling you not to worry and things will get better.
This third book in the Fever series follows Mac as she continues her journey through Dublin trying to track the ancient Fae book, the Sinsar Dubh and figure out who she can trust. These books have so much history and the characters so much depth that it's hard to describe anything without ruining them and you definitely want to read them without having anything spoiled. I am carefully resisting reading anything to do with the last two books because I don't want any of the mysteries spoiled for me.
That said this book has a CRAZY ending. I can see the point of the authors note, because if I had to wait a year to read the next in the series I would be going crazy wanting to know what happens next.
These books are really great reading. Faefever continues directly after Bloodfever and the suspense never lets up. There are so many mysteries to be solved. What's great is that even though it can be frustrating not really understanding what is happening, Mac really wants to know too and is really trying to find the answers. She is a satisfying heroine and her actions generally make sense. You never feel like she is ignoring the obvious. If you are suspicious about something or if something or someones behaviour is nagging at you, Mac feels the same way. I love reading a book where I don't feel smarter than the heroine.
Naturally Book 4 Dreamfever is high on my list of next reads. You know a book is great when you hate the ending only because you're so upset for the character to have to be going through it, not because it's a bad ending.
Rating
5 out of 5 (I HATE the ending! But I'm dying to know what will happen! )
What I'm reading
At Grave's End
?